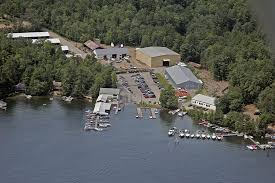 Shep Browns Marina in Meredith
There are many marinas around the lake to serve your needs – gas docks, slip rental, boat storage, boat repair, rental of boats, personal watercraft, etc., snack food, and water sports equipment.
Alton Marinas
Andrew's Marine Service at Minge Cove
Located at 16 Minge Cove Road, Alton Bay, 603-87500654, Andrew's Marine Service offers boat service and maintenance, winter and summer storage, a fueling dock, a lakeside store, 24-hour-on-the-water towing service, as well as seasonal dry dock rentals.
Parker Marine
Located at 381 Main Street in Alton Bay, 603-875-2600, Parker Marine offers Lake Winnipesaukee slip rentals and sells pontoons and boats. They are New Hampshire's exclusive dealer For Caravelle and Interceptor boats.
Roberts Cove Basin
Located at 28 Basin Road in Alton, this long-established, family owned and operated marina services offers boat slip rentals, boat gas sales, boat launch ramps.
West Alton Marina
With a location at 5 West Alton Marina Road in Alton Bay, 603-875-7788, West Alton Marina is a family owned and operated destination marina headquartered in one of the largest artificial coves on Lake Winnipesaukee. This full-service marina offers boat maintenance and slips that include not only include water, electric, and cable but also an area for a gas grill, table, and gazebo directly behind guests' boat. Pets welcome.
Meredith Marinas
Meredith Marina
2 Bayshore Drive, Meredith, 603-279-7921. Full-service marina located on Meredith Bay, Lake Winnipesaukee. Closest marina to Route 93. New and used boats, rental boats, service and parts department, maintenance, valet service, pump-out facility, and gas dock.
Shep Brown's Boat Basin
31 Lovejoy Sands Road, Meredith, 603-279-4573. Located on Lake Winnipesaukee and in business since 1919. Services include new and used boat sales, brokerage sales, service and parts departments, boat rentals, ship store, slips, fuel cock, pump-out services, valet service, boat storage, and public boat launch.
Y Landing Marina
102 Powers Road, Meredith, 603-279-5050. Family-owned and operated full-service marina. Services include boat sales, rental, and service; wet and dry slip rentals; marine supplies and parts; boat storage; convenience store, 93 octane fuel and off-road diesel.
Gilford Marinas
Glendale Docks
Gilford maintains the Glendale Docks exclusively for Gilford residents and residential taxpayers. Located at 31 Dock Road next door to the Marine Patrol Headquarters, the facility has two boat ramps, three docks, a parking lot that accommodates vehicles with boat trailers.
Fay's Boat Yard
71 Varney Point Road Gilford, 603-293-8000. A third generation family business that prides itself with personal service. A dealer in top rated power and sailboat brands. Our Service Department is fully certified in Volvo Penta, MerCruiser, OMC, and Yanmar motors. On site Fiberglass, Canvas, and Sailboat Departments. Seasonal and Temporary Boat Slips, Dry Storage for boats on trailers, and Winter Storage are available. A Gas Dock, Seasonal Rentals, a Public Mooring field, and Lake Services round out more services we provide.
Laconia Marinas
Akwa Marina Yacht Club
95 Centenary Ave, Laconia, 603-782-4242. Voted best marina in New Hampshire by the readers of the New Hampshire Union Leader.
Lakeport Landing Marina
65 Gold Street, Laconia, 603-524-3755. Amenities include 150 boat slips, parts and service departments, rack/valet service, dock rentals, heated winter storage, fuel station, and ship's store. Plus boat detailing, waxing, shrink wrap, and summer trailer storage.
Paugus Bay Marina
41 Sheridan St, Laconia, 603-524-1233. Full-service marina based on Lake Winnipesaukee. New and pre-owned boat, storage, service and maintenance. State-of-the-art valet facility equipped to house 200+ boats.
Thurston's Marina
18 Endicott St N, Laconia, 602-366-4811. Family-owned and operated full-service marina in Weirs Beach. Boat rentals, ship's store, boat slips, fuel dock, summer and winter storage, service and parts departments.
Winnisquam Marine
96 Channel Lane, Laconia, 603-366-4801. New and used boats, boat rentals, service and parts department, fuel dock, valet service for pontoon boats and fiberglass runabouts.
Irwin Marine
958 Union Avenue, Laconia, (603) 524-6661. on water location which serves our customers with sales, service, parts, ships store, temporary boating tests, boat rentals, gas dock, upholstery shop, sign shop, fiberglass repairs, docks, valet service and winter storage.
Anchor Marine
1258 Union Avenue, Laconia – (603) 366-4311 – Well maintained rental fleet from 19′ to 23′, Waterskis, tubes, life vest and other accessories are available
Moultonborough Marinas
Trexler's Marina
15 Long Island Road, Moultonborough, 603-253-7315. This full-service marina offers boat storage inside or outdoors, valet service, shrink wraps, and boat and engine repairs. Trexler's is known for its wide inventory of new and preowned boats, pontoons, and outboard motors.
Independent Marine
1204 Whittier Hwy, Moultonborough, 603-476-5580. This full-service inland marine company offers new kayaks and canoes, new and preowned boats, rental docks, a service department, and indoor storage.
Ambrose Cove Marina
84 Black's Landing Road, Moultonborough, 603-544-2513. This family-owned and operated marina has 50 deep water slips, onsite storage, a service department, boat ramp, and fuel.
Tuftonboro Marinas
Melvin Village Marina
463 Gov Wentworth Highway in Melvin Village on the shore of Melvin Bay in Tuftonboro, 603-544-3583. Family-owned and operated, Melvin Village Marina has served the Lake Winnipesaukee boating community for over 55 years. Services include new boat and motor sales, boat rentals, an award-winning service department, as well as boat storage and lakefront slips.
Wolfeboro Marinas
Goodhue & Hawkins Navy Yard
244 Sewall Road in Wolfeboro, 603-569-2371. With a location on Wolfeboro Bay, Goodhue & Hawkins Navy Yard has been in business since 1903. A full-service marina with new and preowned boat sales and a state-of-the art facility and services that include boat repair and maintenance, valet programs, boat storage, and rentals.
Wolfeboro Corinthian Yacht Club
12 Corinthian Way, Wolfeboro, 603-569-1234. Dock slips and valet service for dry storage, deep water moorings with launch, gas dock and pump out facilities.